Alexander Ekman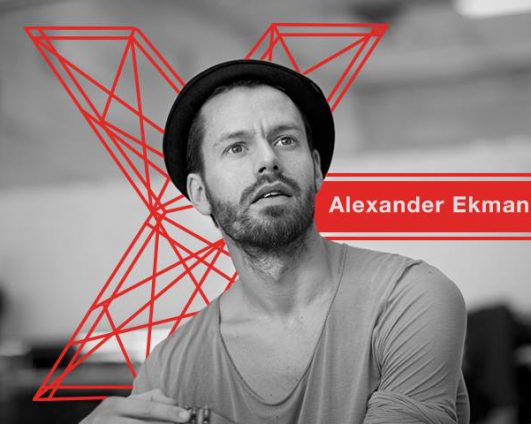 Alexander Ekman is an international choreographer/Director creating pieces for Opera houses Theatres, and Museums. He also directs films and music videos as well as live performances in pop up locations.
Ekman is known for his fast paced timing and witty humor and clever transitions. He aims to create work which the majority can relate and connect with. Since 2006 he has devoted his time creating pieces which both entertains and question the observer. He aims to transform the atmosphere in the audience and to always surprise the audience.
Around 45 dance companies worldwide has performed pieces by Ekman. A few of them are the Royal Swedish Ballet, Cullberg Ballet, Compañia Nacional de Danza Goteborg Ballet, Iceland Dance Company, Bern Ballet, Cedar Lake Contemporary Dance, Ballet de l'Opéra du Rhin, The Norwegian National Ballet. Boston Ballet, Royal Ballet of Flanders, Sydney Dance Company, The Royal ballet of Denmark, Vienna Ballet,  He also created for festivals as the French Europa Danse and the Athens International Dance Festival.
His work Cacti has become a worldwide hit and has been performed by 18 dance companies. Cacti was nominated for the Dutch dance prize Zwaan 2010 and for the National Dance Award (UK) 2012. And also for the British prestigious Olivier Award. Cacti continues to entertain audiences around the world with its important message.
In 2014 Ekman created his own version of Swan Lake. A new take of the most famous ballet of them all. "A swan lake" received enormous attention worldwide and will come back to the oslo Opera house 2016. Ekman filled the stage with 6000 liters of water creating a real lake on stage. A swan lake is available on DVD and the documentary "Rare Birds" by ™ Rives shows the process of how it became possible to create a lake inside an Opera house.
Ekman has also collaborated closely with top fashion designer Henrik Vibskov who created the costumes for Ekman's A Swan Lake.  Vibskov then adapted the choreography for his fall collection which was shown in Paris and Copenhagen during Fashion Week.
In 2015 Ekman Created his own version of Midsummer Night's Dream at the Royal Swedish Ballet which became an instant hit with the audience and critics.
He received the Swedish Medea Award för "Inventor and renewer" in September 2015.
As well as the Såstaholm Award and the Birgit Cullberg Scholarship.
"A master of comic timing"
– Financial times.
"Playful and humane, Humor, Style, and charm"
– The Village voice.
"Silly, clever and knowing"
– The Guardian.
"Witty, effervescent, playful, surreal and joyously physical"
– The Australian.
alexekman.com – Instagram: Ekmanne